The Sports Council Stavanger held the first Sports Day in Stavanger Forum on January 5, 2019, on behalf of the Rogaland Sports Circle and in connection with the Sports Gala 2019 held on the same day. The Sports Day included activities and performances with 29 different sports teams / sports and approximately 3000 audience members participated in the event. All sports teams had their own stand area where an activity was held for everyone to try the sport in one form or another. The diversity of sports and different types of equipment made it possible for all ages and people with disabilities to try activities suitable for them.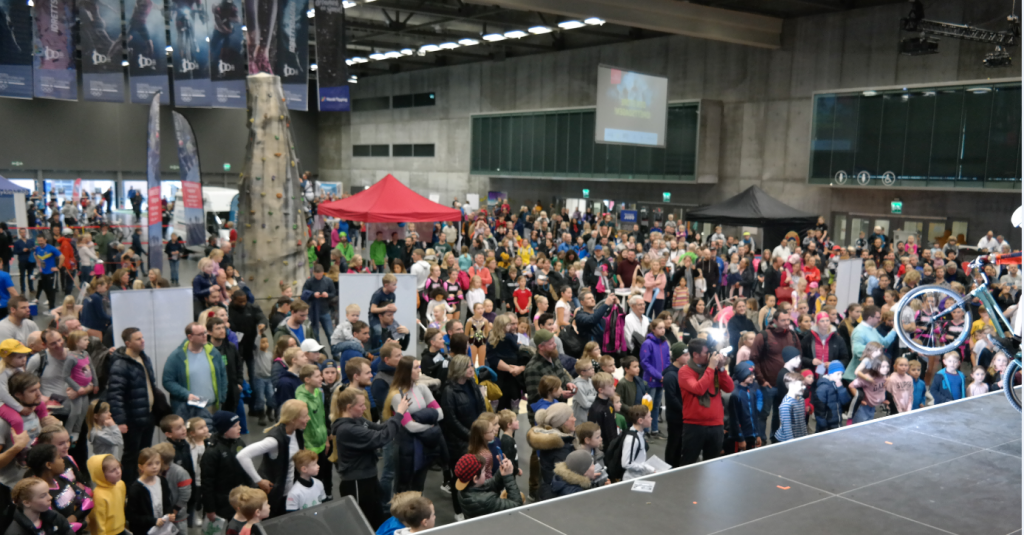 The sports teams on Sports Day were given a very good forum to promote both themselves and their own sports. The audience was given the opportunity to try several different sports in order to gain a better understanding of which areas they have a greater interest in. This became a particularly great opportunity for children and young people to find a sport they want to try more of. After the Sports Day 2019, several sports teams reported increased interest and more active members to their sports as a result of the event.
Due to the overwhelmingly positive feedback from sports teams, the public and politicians after the event, the Stavanger Sports Council wants to continue to offer this opportunity to the sport and the public in Stavanger.
Sports Day proves to be a fantastic opportunity for the Municipality of Stavanger to showcase the diversity of incredible sports available to everyone in the city!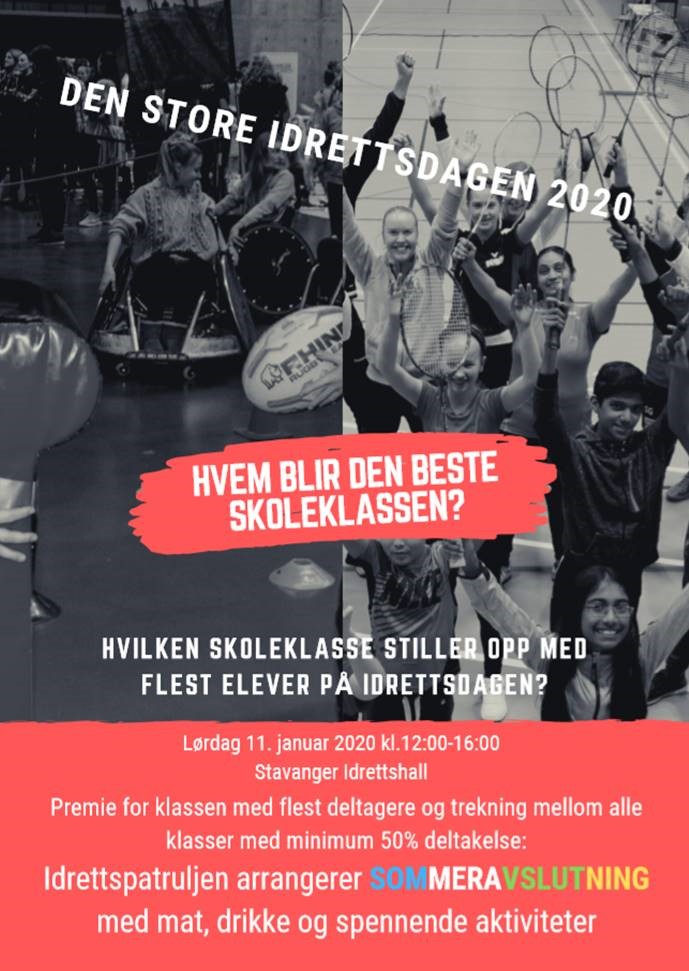 For the first time at Sports Day 2020, the Sports Council started the Stavanger School Class Competition where all schools in Stavanger were invited!
Easy set-up – each school class is challenged to pose with most students and the winner gets a SUMMER END arranged by the Sports Patrol with food, drinks and exciting activities!
Eligibility criteria:
The class with the most participants, based on the percentage of the class, wins a SUMMER END
To win you must have a minimum of 75% participation in the class and a minimum of 18 students
Everyone who participates with at least 50% of the class on Sports Day will also be included in the drawing of their own SUMMER END
The first year, there were 34 participating sports teams and the class that won the SUMMER CLOSING became class 7C at Kvernevik School which posed with all 23 students in the class!
Sports Day 2019 - Expo hallen
Participating sports clubs Sports Day 2019:
Sports Day 2020 - Stavanger Idrettshall
Participating sports clubs Sports Day 2020:
Jushinkan Aikido
Stavanger Svømmeklubb
Uburhedleren Klatring
SIF Håndball
Stavanger Karateklubb
Stavanger Judoklubb
Stavanger Skateklubb
Stavanger Fekteklubb
Stavanger Roklubb
Freestyle Disco klubb
Stavanger Skytterlag
Stavanger Styrkeløft
Straen Gymnastikk og Turnforening
Viking HK
Stavanger Cheersport
Stavanger Rugbyklubb
Stanger Bordtennisklubb
Stavanger Bueskyttere
KFUM Volleyball
Stavanger Seilforening
Stavanger Ju Jitsu Klubb
Stavanger Tennisklubb
Stavanger Golfklubb
Stavanger Badmintonklubb
Stavanger Innebandylubb
IL Skjalg
Stavanger Pistolklubb
Aktiv Kickboxingklubb
Lassa Cricket klubb
Hafrsfjord Vektløfterklubb
Stavanger Ishockeyklubb
Bedriftsidretten
Hafrsfjord Sykkelklubb